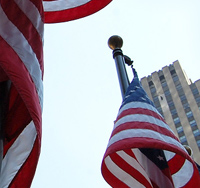 Equity Tuition vs. Federal Law
I struggle with HB2787 - legislation to allow students who are here illegally, but have attended five or more years of Oregon Public School, to attend college in Oregon and pay instate tuition.
Those of you who know me personally will readily recognize that I look at things pretty directly. An issue is either right or wrong, good or bad, the proper or improper thing to do. And the law of the land should stand as written. If you do not like a law then it needs to be changed, not disobeyed.
Who is this legislation going to affect? Is it cost effective? Is it good for our state, our county, our city? Will this legislation change a direction or an outcome for the better? How does Oregon justify disobeying Federal law on harboring aliens to enhance or further their stay here in the United States? How does Oregon justify the Federal law which states that if you are here illegally you must return to your country of origin for a period of time of not less than ten years?
There is the age old argument that these students didn't break the immigration laws - their parents did. Well that is true. Unfortunately these children are guilty by association and their parents should stand and be responsible for that action. Yes, I believe that parents are responsible for their children.
The answer to most of the questions and what many want to hear is that it will make things so much better for illegal students who have attended our Oregon schools. That is a feel good answer for the most part.
The real answer lies at the feet of those in Washington DC. There is no question in my mind that the US immigration system needs to be reformed and updated - until that is done, the law is as it is and Oregon as a state does not have the right to change that law - your legislators voting Yes on HB 2787 are choosing to disobey the Federal Immigration laws.
1. Federal Law(Section 8 Section 274) states that "harboring illegals with conduct which tends to substantially facilitate an alien to remain in the US. Illegally is a violation of the law.
2. That section also states "any alien wishing to establish citizenship who has resided in the United States illegally must return to their country of origin for a period of no less than 10 years before applying for U.S. citizenship through proper channels.
There are many other reasons but those two laws above were not put on the books to be broken. Yes- they have been broken and bent and tarnished, BUT it is still the law of this land until it is changed. IF and WHEN the Federal Government changes their laws then Oregon can follow suit - but I have great difficulty in setting up all of these young people for failure. So say we educate them and they come out of school with beautiful degrees - Do you know that they still cannot work legally in the United States? The minority report presented by Rep. Gene Whisnant of Sun River would have at least made it legal for these students. The minority report was voted down and therefore not considered.
If Oregon chooses to "harbor" these students without significant changes at the Federal level it puts the state in a very precarious position. I know it would feel good to give these students a bit of a break for college but doing what feels good isn't always right. This legislation is a consolation prize and in my view is discriminatory against US citizens who reside in other states - they will pay out of state tuition. It seems to me that we just keep stepping back, stepping back and accepting the push toward liberal views and allowing the ignoring of laws of our land - which has become so obvious over the past few years from the federal level to the Oregon Legislature.
I thought you might be interested in knowing which of the elected officials voted "NO" on this issue today. There were 38 yea and 18 nay votes on HB2787. This is the list of those who voted against HB 2787.
Cameron, Conger, Davis, Esquivel, Freeman, Gilliam, Hanna, Hicks, Kennemer, Krieger, mcLane, Olson, Richardson, sprenger, Thompson, Weidner, Whisnant, Whitsett.
A note of appreciation for standing up for what is right and obeying the law would be greatly appreciated by these 18 individuals.
Additional reading:
http://www.portlandspectator.org/2011/04/dreaming-small-in-oregon/
Please take just a moment and go to my new website www.salesquivel.us and sign up to stay in touch. It just takes a moment to fill out the request form and I cna addd you to my email list to keep you updated on any of the important issues you are specifically interested in.
Thank you
Sal
Rep. Sal Esquivel
District 6