All sorts of community organizations and events to support and promote: people helping people.

UO President Mike Schill and
Lane County legislators
Not all the action is in Salem! Yes, the legislature isn't in session but that doesn't mean legislators are "on break." I've been attending meetings, visiting non-profit and for-profit businesses, doing conference calls, and seeing some of you at community events. A few of us local legislators chuckle as we run into each other (sometimes more than once a day) at meetings and policy briefings. In the next section I report to you with highlights from the schedule the last two months.
And I've been busy starting a special project, to make books available for the kids and adults visiting food pantries: "Food for the body, food for the mind." Stay tuned; I'll report next month.
I feel a high-energy vibe these days -- with Matt Sayre from Technology Association of Oregon, Joshua Purvis at Eugene Film Society, Leigh Anne Hogue and Brittany Quick-Warner at Eugene Area Chamber of Commerce, and Kristina Payne at Lane Workforce Partnership. On top of the critical importance of meeting the needs of current local businesses, there's a sense of urgency about tech infrastructure, and preparing for being on the world stage for the 2021 IAAF World Championship Games. For the first time this event will be hosted in the U.S., right here in Eugene! We now join cities like Rome, Tokyo, Paris, Osaka, Helsinki, Seville, Athens, Beijing, Berlin, and London. This will be the largest sporting event in the world in 2021, with nearly 2,000 participants representing up to 213 countries from around the world. I'm talking with lots of people who are ready to roll up their sleeves and get to work planning for lasting improvements to Eugene, especially in transportation and technology. I'm eager to help. Here's my
announcement
to the state legislature last spring.

Cordially,

Here in Eugene ...

College students


At Lane Community College
I met with Oregon Student Association reps to talk about college affordability and other topics of concern. The legislative session had several major successes for college students: $550 million community college budget, $700 million for universities, protections for students who prepay their tuition to for-profit colleges, and tighter controls on financial aid disbursement. It was fun to meet with these students in Eugene, after seeing some of them testify in Salem to help get our bills passed.
I briefed a group of OSPIRG volunteers on their way to canvass in the Eugene/Springfield area on the topic of inappropriate use of antibiotics as a danger to public health. Having some OSPIRG roots myself, working on housing issues in the 1970s, I appreciated connecting with these motivated, engaged youth.

Educators, health and human service providers,caregivers ... and public utilities


Other meetings took me to United Way, Lane Education Service District, ShelterCare, and Trillium, and greeting families, clients, and staff at the Alvord Taylor annual meeting. At the Roosevelt Operations Center we saw some of EWEB's work in areas like meter testing, and emergency response and water distribution. Local organizations told some Lane County legislators how they benefit from tax credits that fund capital projects at ShelterCare, St. Vincent de Paul, and a dental organization serving low-income families. On three separate days I sat in on circuit court: downtown and at Serbu youth center, to watch how drug court, veterans court, and juvenile dependency cases are handled by attorneys and state staff. One afternoon I went to "Fidgets2Widgets" to see first-hand a high quality after school enrichment program loaded with technology for kids ages 9-14.
.
Quality after school programs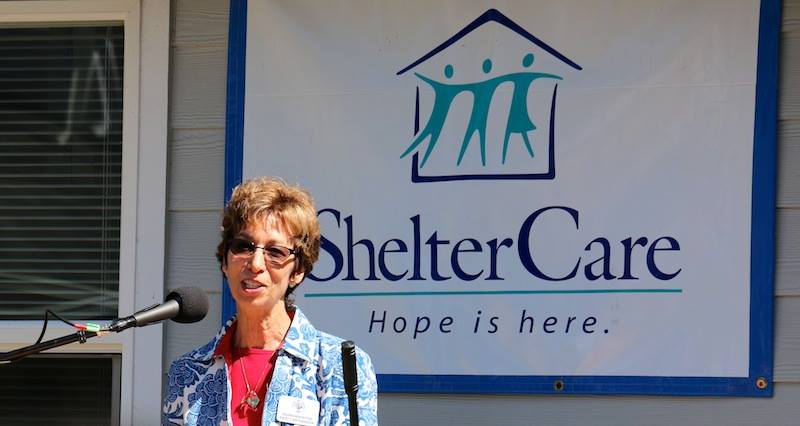 Celebrating Uhlhorn Apartments
25th anniversary
And in Salem ...

Legislators are mostly back in their districts now, during the "interim" between sessions. I've been to Salem, Portland, and Vancouver WA for meetings regarding prenatal care, child welfare, and health policy, as well as coordinating passenger rail services for Oregon and Washington. Every few months we all gather at the Capitol for "Legislative Days", when committees hold hearings on new and developing issues, receive routine reports, and inquire about the status of projects. The next set of meetings will be in mid-November. Hearings are scheduled on potential topics such as affordable housing, the youth foster care system, the emergency preparedness, the federal clean power plan, wage theft and minimum wage, and getting Oregon products to the global market since the withdrawal of Hanjin and Hapag-Lloyd container cargo service at the Port of Portland, which impacts more than 1,000 shippers.
These people explain the science so we can all understand it - and with a little humor, too.
The really big one: Earthquake forum

UO's Department Of Geological Sciences hosted an Earthquake Preparedness Forum on August 6th, with presentations from UO professors Doug Toomey, Amanda Thomas and Ray Weldon, OSU professor Chris Goldfinger, and Josh Bruce from the Oregon Partnership for Disaster Resilience. And I got a big surprise that night: the University will be naming two of the seismometers to honor the work that Congressman DeFazio and I did to secure funding. We'll be keeping a watch on PETE and NATH. See it for yourself: watch a
video of the forum
. Learn how to
prepare for earthquakes
.
Bridges throughout the state


The Oregon Department of Transportation recently released its
2015 bridge condition report
and
infographic
that outlines the dire situation facing the state's bridges. You may recall a series of projects that replaced or repaired about 270 bridges over 10 years. Public safety and jobs both benefited from that big investment ... but it was only 10% of state highway bridges. 82 of Oregon's 2,700 bridges are currently considered "structurally deficient," with an estimated 15 additional bridges to be classified as such each year. Something clearly has to be done, and soon.
Nancy Nathanson, State Representative | 541-343-2206 | rep.nancynathanson@state.or.us