Flooded by automated email, squeezing in lots of meetings, only a couple of weeks left.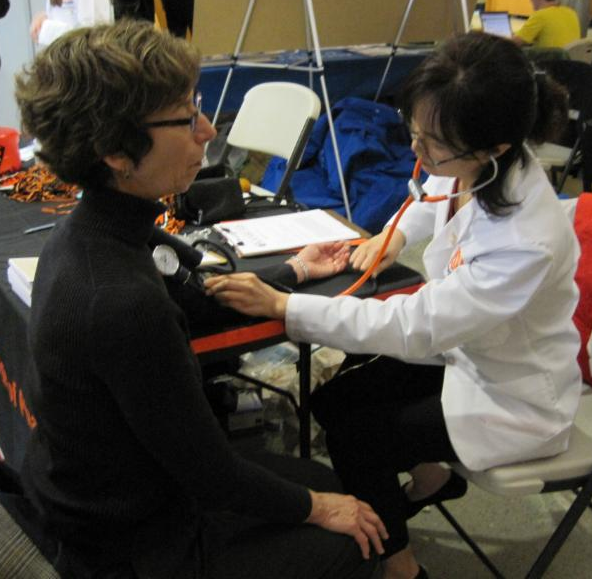 Getting my blood pressure checked at the Capitol. (It was fine.)
I'm back in Salem again, for a sprint through the 2016 short session, limited by the constitution to 35 days. On day four, we had two floor sessions (voting in the House chamber), and I had 13 meetings with individuals or small groups, 2 caucus meetings, 3 phone meetings, and a leadership meeting.


Despite the short time frame, we're working hard to
re-balance the budget, fine-tune statutes that need to be updated, finish business from the previous long session, and handle topics that are time-sensitive. Here are a few of the bills we passed last week:
A study on lowering interest rates for student loans; updating the connection to the federal tax code; budget adjustments for transportation projects; developing procedures for handling public records requests for electronic records; cleaning up statutes to prevent "notario" fraud, where bad actors are fraudulently providing legal advice--explained in this
letter
from the Secretary of State.
Biosimilars:
We passed a bill requiring communication between health care providers and pharmacies when dispensing biologic products (large-molecule, living-cell treatments). Biologics, according to a letter from the Alliance for Safe Biologic Medicines, "are used in treating serious conditions like cancer, rheumatoid arthritis, diabetes, and MS. 'Copies' of these medicines, called 'biosimilars' have the potential to provide these therapies at reduced cost. Yet, unlike generic versions of chemical drugs, biosimilars are not exact duplicates of their reference products." The full
letter
.
I recently recorded a short statement that appears in a video prepared by the House Democrats, highlighting the priorities; you can view it
here
. Some of our work is not at all easy. I listen to the needs of different neighborhoods and differing opinions in Eugene, and then hear those differences multiplied when I look for the best path for the Willamette Valley and the coast, Portland and eastern Oregon. I think of the inspiration from a memorial service for Peg Morton last month, and I'm grateful for the voices of hope and wisdom.

Cordially,

Statewide

Frankenfish (a bill about genetically engineered fish labeling)


Frankenfish - that's the light-hearted nickname for a serious subject we're handling. Both of Oregon's U.S. Senators (Jeff Merkley and Ron Wyden) signed a letter along with multiple other senators to the Commissioner of Food and Drugs for the FDA expressing concerns about the approval process for genetically modified salmon. The company that engineered the salmon has pledged to produce reproductively sterile fish. Even if only a small percentage of nonsterile salmon escape, the result could lead to the extinction of wild fish populations. This approval might also set a precedent for future bioengineering. I have co-sponsored a bill (HB 4122) that addresses issues with genetically engineered products, and support labeling so consumers know about engineered ingredients in food they purchase.
Health care transformation update


Since we set Oregon on a path for major health care transformation, the Oregon Health Authority has been tracking some key indicators. Using the Coordinated Care Model, prevention and primary care treatment have been emphasized, in order to reduce more serious -- and costly -- consequences later. Here are some highlights from the latest report: 1) Emergency department visits by people served by CCOs have decreased 23% since the 2011 baseline. 2) The rate of adult diabetes patients (ages 18 and older) who had a hospital stay because of a short-term problem dropped by 32% since 2011. 3) The rate of adult patients (ages 40 and older) who had a hospital stay because of chronic obstructive pulmonary disease or asthma decreased by 68% since 2011. I recently toured the new community health clinic at Delta Oaks: energized and caring staff working together to give patients the best care.

A couple of big bills


Minimum wage
I supported the successful passage of SB 1532, increasing the minimum wage. Building on Governor Kate Brown's proposal, the new law is less drastic than a couple of proposed ballot measures. It recognizes different circumstances in different areas of the state, and phases in higher wages over a longer time period -- 6 years compared to 3 -- allowing business, especially small businesses, more time to adjust. The bill is awaiting Governor Brown's signature.


Transient lodging tax
: I'm supporting this proposal that collects money primarily (over 75%) from people visiting from outside Oregon to expand the tourism industry, an important sector in Oregon's economy. A significant amount of money will be available for all regions of the state to benefit. Here's my full
testimony
.
Lots of email messages about climate, background checks for guns, contamination from GMO crops, and minimum wage
Student advocate


I've received many emails from constituents regarding climate change bills that have been proposed for the 2016 session. The Healthy Climate Bill has been introduced in both the House (HB 4068) and Senate (SB 1574). The Coal Transition Bill (HB 4036) would cut carbon emissions in Oregon at least in half. I met several times with organizations such as 350 Eugene, Oregon League of Conservation Voters, and individual constituents, all of whom have expressed their support for one or all three bills. These meetings have emphasized the need to reduce carbon emissions through cap and trade, and create jobs in Oregon and not contracted out to somewhere else. I agree that it is critical to address climate change and protect our environment, and support these bills.


Around Eugene ...

Transit service: LTD wants to hear from you


Lane Transit District is entering the second year of a three-year, $3 million investment in transit service funded by the payroll tax increase that the legislature authorized in 2009. Anyone who wants to participate in the process of LTD's proposals to improve transit service can weigh in using this link. You're also invited to a public hearing on the service changes: March 16th at the Eugene Public Library.
Tasting Annetta's beet and carrot salad:
OSU Extension Service, Food Hero.
Bethel Food Pantry hands out a ton and a half of food every two weeks.
At our office
Visitors from Food for Lane County, urging our help with critical housing needs, too.
Zach joins our staff
Our office needed a little help for the 2016 session so Zachary Fergus and John Bain have joined us. You may remember John from last year. Zach recently interned for Senator Jeff Merkley after graduating from Villanova University. He enjoys the outdoors, and taking his husky camping and hiking, especially around Mt. Hood.
We've had lots of visitors from Eugene, including constituents advocating for climate protection, increasing the minimum wage, helping seniors and disabled persons, and food and housing.
| | | |
| --- | --- | --- |
| Being interviewed by Danny Bruno (Bud Wurstner on "Grimm") | Peggy comes to talk with me about human services | Capitol Caregiver Award, AARP |
Nancy Nathanson, State Representative | 541-343-2206 | rep.nancynathanson@state.or.us