Food for the body, food for the mind: my local project, and discover new old things at pub talks and MNCH.
Fall in my front yard:
midwinter fire dogwood
I've seen so many of you at local meetings, the market, and events the past few weeks. The rain hasn't kept me at home, nor is it keeping the birds away from the feeders or the berries in our yard.

Even though most of our family is far away, we enjoy right where we are in Eugene: musicians and local artisans at Holiday Market, superb and creative ballet with live music, baking cranberry bread at home. Troubling stories from around the world and here in our backyard can be set aside for an hour or two while we take time to count our blessings, and show gratitude to others. Best wishes for the New Year.

Cordially,

Food for the body, food for the soul. Books at food pantries.
Free books available at a food pantry
With the help of a great AmeriCorps staff person at
United Way, I've been working with several organizations to make free books available at food pantries. I believe it's valuable to put books and quality educational magazines at the places where people visit for help with food, and sometimes other services.
Food for Lane County has 31 food pantry partners, and at least five have already made space for bookshelves. While clients wait to take a turn visiting the food shelves, they can look through the books - for children and adults - and take what they want. And it seems that the books fly off the shelves! At just one location, in Springfield, approximately 1,000 books were distributed in a single month.


The Eugene and Springfield public libraries, St. Vincent de Paul, SMART (Start Making a Reader Today), and other groups have been helpful with advice and resources. You can imagine how pleased I am to help provide books for recreational reading, education, and information to people with few other resources, and sometimes few social connections as well.


If you can spare an hour or two once in a while and would like to help with this effort, such as occasionally taking a box or two of books from a warehouse to a food pantry or checking the shelves, please contact my office at (503) 986-1413.
Habitat for Humanity -
dedicating a new home
More in Eugene ...
Serious students:
Last month, I did my homework collecting information and statistics to be prepared for talking to a class at the UO, "Organizational Issues in Human Services." The professor, Kevin Alltucker, explained that the 118 students in the class are seniors in the Family and Human Services program, "about to embark on professional careers in all sorts of human service endeavors-working for non-profits, governmental agencies, and about 30% will go to grad school."
I enjoy visiting local businesses in my district to connect with constituents who are helping the Eugene economy grow, and learn about what I can do in Salem to help small local businesses thrive. One of these businesses was Wildtime Foods, a granola manufacturer in the Whiteaker neighborhood that produces delicious, locally sourced granola under the "Grizzlies" brand. I had a great time touring the facility with co-owner Brad Averill. I admire Brad's approach as a business owner and employer, and his support of local agriculture and sustainable business practices.


Another organization I had the pleasure of visiting was Centro Latino Americano, where they've expanded youth mentoring, counseling, and mental health services. Those are just some of the basic and comprehensive services delivered by their staff and 116 volunteers. They also provide internships, help connect people to jobs, provide basic legal assistance, and various other educational programs such as tax preparation and household budgeting. Between July 2014 to June 2015, Centro received 2,482 visits to their social services and referrals program.
.
Wildtime Foods
Health Center Hero: I was honored to be selected as one of the Oregon Primary Care Association's 2015 Health Center Heroes. This award highlights Oregon lawmakers that serve prominent roles in ensuring access to adequate healthcare to all Oregonians. Sharing this honor with me are Representatives Vic Gilliam (R-Silverton), Cedric Hayden (R-Roseburg), and Alissa Keny-Guyer (D-Portland). One of my priorities has been to expand access to primary care in rural and underserved communities across Oregon.
A few weeks ago I was invited to attend the AARP volunteer reception and dinner. Along with a few other legislators, I have received the Ben Westlund "Down the Trail" Award for my help sponsoring a bill in the 2015 legislative session. I've thoroughly enjoyed working with their team to help ensure that family caregivers are adequately prepared for the care they will be providing to their loved ones.
Willamette River report card: the health of our river

The University of Maryland Center for Environmental Science and Meyer Memorial Trust recently released a study on the health of the Willamette River. The lower Willamette (near Portland) scored only a C+, but further upstream it's doing better. The middle and upper Willamette (Newberg to Eugene) scored a grade of B. Indicators used include water quality, fish and wildlife activity, water flow, and channel complexity. Read the
full report
.
Gillian and me, working at Capitol in December: Happy Holidays
to friends near and far
In Portland: a leadership summit

Business, government, and elected leaders from rural and urban communities throughout Oregon gathered in Portland on December 14. This annual meeting is organized by Oregon Business Plan. In their words, "We envision the growth and success of leading-edge, innovative companies based in Oregon and selling their products and services across the globe. These companies provide high paying jobs, bring in new revenue that is invested in local suppliers and service providers, and grow Oregon's tax base. We call these companies the 'traded sector' because of their unique role selling products and services outside of Oregon, bringing in fresh dollars to our communities." Keynote speakers included Governor Kate Brown, Senate President Peter Courtney, Speaker of the House Tina Kotek, and several members of our federal delegation. My day started with a 7:30 breakfast meeting on the Tech industry. The panel included Eugene's own Jake Weatherly, CEO of SheerID. One of the critical workforce shortage needs is in the area of cyber security; businesses and government agencies need people trained and available - in Oregon. A few snippets to give you a flavor of the kind and variety of other topics: crowd funding for new and growing businesses, transitioning from fossil fuel to clean energy, affordable housing, and exporting fruit purée for breweries.
And in Salem ... a big step for train travel.

Okay, it's "just planning." One step at a time, we are now another step closer. Without an adopted plan and the necessary Environmental Impact Statement, Oregon will be left in the dust again when the federal government has funds to help states with major improvements to passenger rail. That's what happened a few years ago when Washington state was ready and received $800 million for improvements, and Oregon wasn't ready (receiving 1% of the amount of Washington's grant). I have pushed hard to get Oregon back on track.
The Oregon Passenger Rail Leadership Council was appointed in 2012 to advise the governor and the Oregon Transportation Commission on a preferred alignment for intercity passenger rail improvements. I'm a member of that group, and Mayor Piercy is a co-chair. Our work will become a foundation for the future to make Oregon more competitive for rail project funding. As a member of that Council, I have attended meetings for several years, and listened to and read citizen comments and engineering reports regarding ideas for improving passenger rail. Specifically, we were tasked with selecting the general rail alignment and communities where stations would be located, and determine service characteristics such as the number of daily trips, travel time objectives and the technologies to be used.

Earlier this month, we recommended Alternative 1, a series of improvements to increase speed, reduce travel time, and add more train trips. Now ODOT and the Federal Railroad Administration will work on preparing a Tier 1 Environmental Impact Statement (EIS). The EIS is required in order for Oregon to compete for future federal and state construction funding for the high-speed rail corridor between Eugene and Portland. You can find more information about the most recent meeting and the recommended alternative here. I strongly support this recommendation. Alternative 1 is the best opportunity to advance passenger rail in Oregon. It provides a cost-effective choice that will increase the reliability and frequency of rail service near population centers in the Willamette Valley, with shorter travel times and an ability to implement incrementally when funding becomes available. While true high speed rail is not precluded from future consideration, Alternative 1 has the support of our federal partners at the Federal Railroad Administration and is something Oregon should support building. We are now one step closer to being ready for more, better, and faster rail.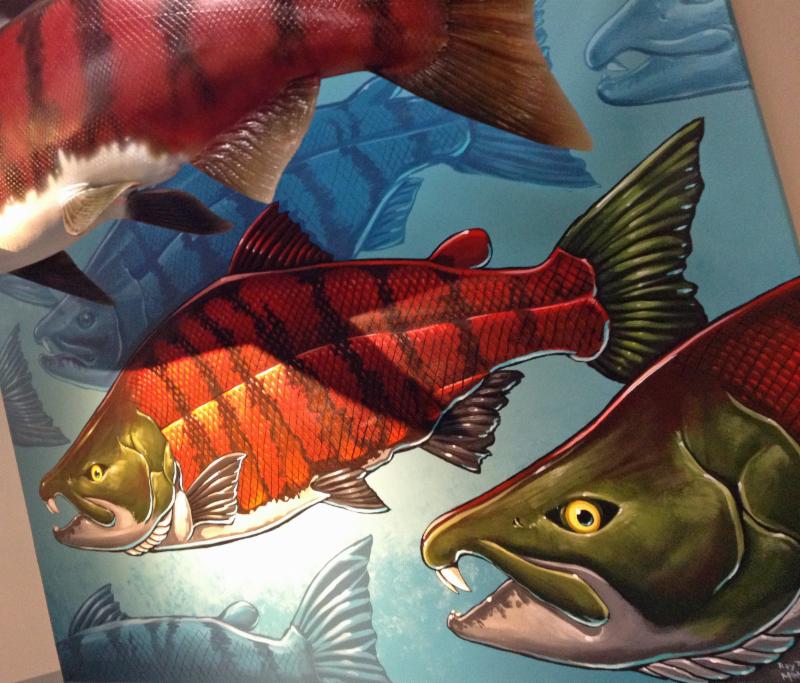 Museum art of a different sort!
Dark and rainy outside, three fun ideas for inside

The University of Oregon's Museum of Natural and Cultural History (1) has ongoing and special exhibits for the whole family. (2) The MNCH is sponsoring some special activities in the next couple of months, including an interactive feeding session with sharks at the Oregon Coast Aquarium. More info: Judi Pruitt at judip@uoregonedu or 541-346-1671. And (3) Ideas on Tap, a pub conversation series with thought-provoking discussions about science, ecology, history ... Next one is Jan. 6: Fossils, Myths, and Fantastical Creatures. On Feb. 3: Are You Sure You Can Lift That? Stories and Songs of a Commercial Fishing Woman.
Nancy Nathanson, State Representative | 541-343-2206 | rep.nancynathanson@state.or.us